Hydrating
Face Therapy

The ultra hydrating therapy (recommended use: 1-2 times a week)
The Hydrating Face Therapy
A therapy of intensively hydrating cosmetics with formulas inspired by the richness of plant active ingredients from nature. The leading ingredient used in the therapy is pumpkin flesh extract. It is a rich source of sugars, vitamins, carotenoids, proteins, mineral salts and amino acids.
Eco-formulas have been created in accordance with the rules of natural cosmetics, packed in modern, functional, environmentally friendly and fully recyclable packaging. The treatment with the use of Hydrating Therapy is recommended for every skin type. The preparation formulas and their compositions have been composed to meet the requirements of skin at every age; their light consistencies perfectly secure mature skin and do not burden young oily skin. The cosmetics provide protection against renewed dryness, while their systematic use slows down skin ageing process.
The ultra hydrating therapy (recommended use: 1-2 times a week)
The ultra hydrating therapy (recommended use: 1-2 times a week)
Step 1 – cleanse skin with the Basic Cleaner face gel.
Step 2 –apply the Basic Cleaner enzymatic peeling onto skin, then rinse it and wipe your face with the Basic Cleaner tonic.
Step 3 – face concentrate – massage a small amount of the Pumpkin Line concentrate into dry skin until absorption.
Step 4 – face mask – apply the Pumpkin Line mask onto skin and perform a short, five-minute massage, starting with your neck, then chin, cheeks and forehead. Remove the mask excess with a tissue.
Step 5 – algae mask – energetically apply algae mask mixed with water on the prepared skin. After 15-20 minutes, when algae fully set, remove the mask as a whole. Its remnants can be removed with a damp cotton pad.
Step 6 – eye contour cream – you can now apply the Pumpkin Line face cream on your face and massage the eye contour cream of the same therapy into the eye area.
After the treatment, skin is optimally hydrated, calm, smooth and elastic; therefore, the treatment is also recommended as the so called banquet treatment, i.e. as a treatment before a special occasion or an important meeting. After such preparations, makeup will last longer and skin will look radiant are relaxed.
Pumpkin flesh extract
A rich source of sugars, vitamins, carotenoids, proteins, minerals and amino acids. Glucose and fructose moisturize and retain water in the epidermis, create a protective film which prevents water evaporation from intercellular spaces. Beta-carotene and vitamins: A, C and E are a cocktail of antioxidants which slow down the skin ageing process. The extract is also a rich source of enzymes regulating exfoliating process which provide skin with smoothness and radiance.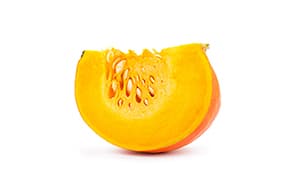 Chondrus Crispus Algae
Red algae called the "plant silicone", a source of many vitamins, proteins, microelements and carotene. They soften, moisturize and improve elasticity of dry skin, protect it against irritating factors.