The Slimming
Therapy

The Anti-Cellulite Therapy
Anti-Cellulite / Coffee is a therapy based on two main active ingredients obtained from coffee. The first one is caffeine which shows strong anti-cellulite, slimming and firming properties. It stimulates fat tissue burning and accelerates metabolism. The second active ingredient is chlorogenic acid which neutralizes free radicals, protect skin against damages caused by adverse external factors, such as UV rays, stress and impurities. The therapy ingredients help keep skin firm and properly tight. The therapy is especially recommended to those seeking intensive skin firming, especially during combating cellulite or weight loss.
In order to obtain the best effects, it is recommended to regularly use the entire Anti-Cellulite Therapy / Coffee step by step.
Step 1 – body sugar peeling – peeling should be used 1-2 times a week. Simply apply it on your body and perform a few minute massage, then rinse it with warm water. Sugar crystals combined with coffee particles will cleanse skin of dead epidermis cells and improve microcirculation, while Shea butter, beeswax, vitamins E and C will smooth, nourish, stimulate skin and give it a healthy look.
Step 2 – body serum – 1-2 times a week, after peeling, massage serum into your body. Caffeine and coffee extract will accelerate fat cells breakdown and metabolism. Guarana extract intensifies their anti-cellulite action. Intensive serum effects are manifested by the feeling of warmth and temporary skin redness.
Step 3 – body butter – use butter as the third step of the therapy: apply it on serum 1-2 times a week and for intensive everyday care. Use butter regularly 1-2 times a day, best in the morning and evening. Coffee extract, present in butter, stimulates fat burning and supports detoxification, as well as slims and firms skin.
Body serum can also be used interchangeably with butter (for example, use serum in the morning and butter in the evening).
Coffee, caffeine, coffee extract
Caffeine shows lipolytic activity towards fat cells. It reduces fat accumulation in cells by stimulating lipolysis. The anti-cellulite action of caffeine is also based on stimulating microcirculation and increasing metabolic activity of cells.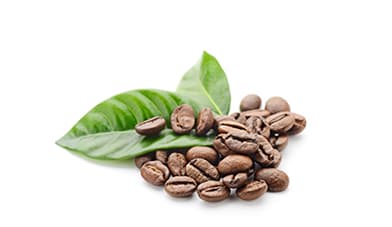 Shea butter
Nourishes, regenerates, soothes irritation, prevents skin flaking and evaporation of water from epidermis. It constitutes a natural protective barrier against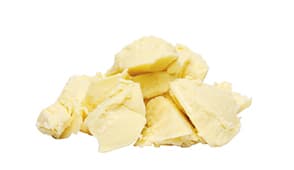 Guarana extract
Is characterized by multi-directional action, rich in alkaloids, theobromine and flavonoids. It enhances the action of caffeine, prevents the process of fat accumulation in cells. One of guarana's characteristics is that is absorbs much slower than caffeine and its action is more stable. The combination of guarana and caffeine guarantees at least two times longer effects. Moreover, it also has anti-oxidative properties, prevents swelling and counteracts the so called city stress.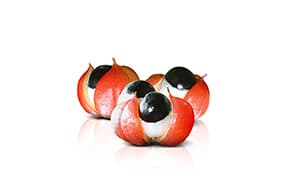 Vitamin E
An effective antioxidant, protects skin against oxidative stress and photo-aging. It soothes irritations and accelerates the regeneration processes.